We are proud to stock, supply and install a comprehensive range innovative range of fire alarm panels including the popular Teledata One touch screen panel, as well as our own brand Eurotech models and designs from Evotech, Odyssey and Pulsor. We stock both conventional and intelligent fire panels to suit every requirement. Read on for a breakdown of our Intelligent Fire Alarm Panel range.
Teledata One Intelligent Fire Alarm Control Panel
The industry's first certified fully touch fire panel with easy use interface and custom light options.
This Fire Alarm Panel manages a number of protocols including Eurotech, Odyssey, XP95, Discovery and Core Protocol and can connect up to 128 panels on a network loop.
View the full spec of the Teledata One Intelligent Fire Alarm Control Panel.
Eurotech Fire Alarm Control Panels

Our most popular range of control panels benefit from unique specifications to suit different needs and requirements for our customers.
Talk to our expert Fire Consultants today about finding the right panel to suit your exact requirements.
Evotech Fire Alarm Panels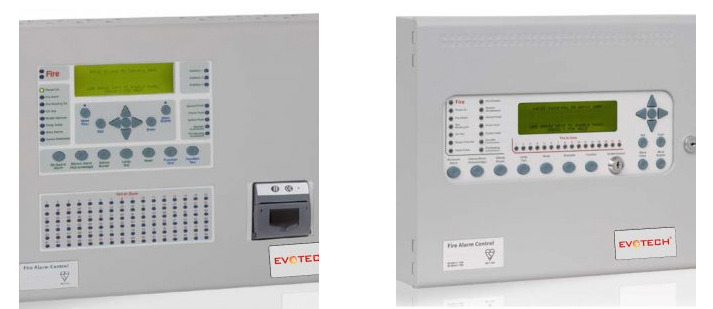 The Evotech range can be configured to suit all types of system, from the most simple, to the highly complex. Its fully integrated and secure network provides an intelligent interface for building control.
The Evotech AS Lite models benefit from a large graphic display and ergonomic button and indicator layout. It is simple and straight-forward to understand for installers, commissioning engineers and end users alike.
Odyssey Intelligent Fire Alarm Panels

The Odyssey range of Fire Alarm Panels come packed with features designed to make them versatile,
easy to install, easy to operate and easy to commission.
Powerful and flexible programming can be achieved with these panels with models specifically designed to suit different sized fire detection systems.
Pulsor Intelligent Fire Control Panels

Manufactured and tested to fully meet the requirements of EN54 part 2 and part 4, the Pulsor range has been designed with ease of use in mind, using pre-programmed values for its programming options.
Not sure which Fire Alarm Panel is right for your needs? Please get in touch where we can assist with advice and implementation.