We were delighted to award Judge Fire & Security with their Toccare Touch Screen Fire Control Panel as winners of our 1000th order promotion recently.
Judge Fire & Security was formed in 2007 near Galway, Ireland, focusing on providing quality fire safety engineering solutions across the west coast of Ireland.
We came to work with Judge when Michelle Agius, MD of Eurotech, met with one of Judge's customers at a Meet The Buyer event. Their customer was so impressed with our products and service, they specified us on their hotel fire system installation with Judge Fire & Security. It wasn't long before Judge was one of our firm partners.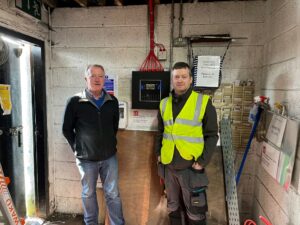 We presented the 5-loop Toccare One panel to Dermot McDermott from Judge Fire & Security on-site at C&F Tooling near Galway. This project will provide a full fire detection and alarm system across their 6-acre site using Toccare fire control panels, Sygno-fi by Eurotech wireless detection and FireBeam Blue optical beam smoke detection.
Michelle Agius, MD of Eurotech says: "Micheal and Judge Fire & Security were our very first Irish customer back in 2012 and the C&F Tooling installation will be Micheal's last project before he retires, so for him to win the 1000th Toccare panel for this installation is perfect. It has been a pleasure to work with Micheal over the last decade and we look forward to continuing to work with the company over the coming years."
To read the full case study on Judge's installation at the impressive C&F Tooling site, click here>>>